How to Choose a Dive Mask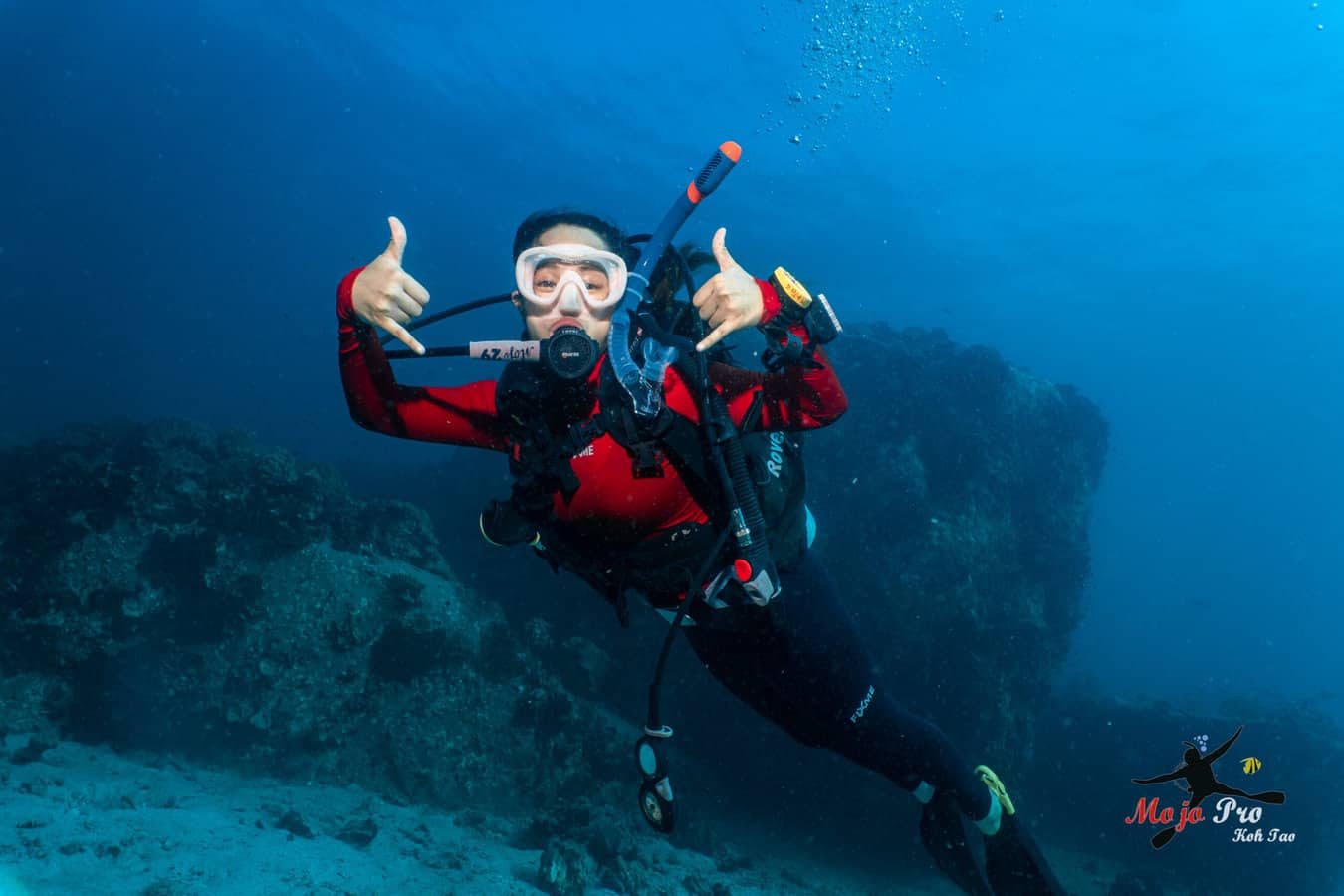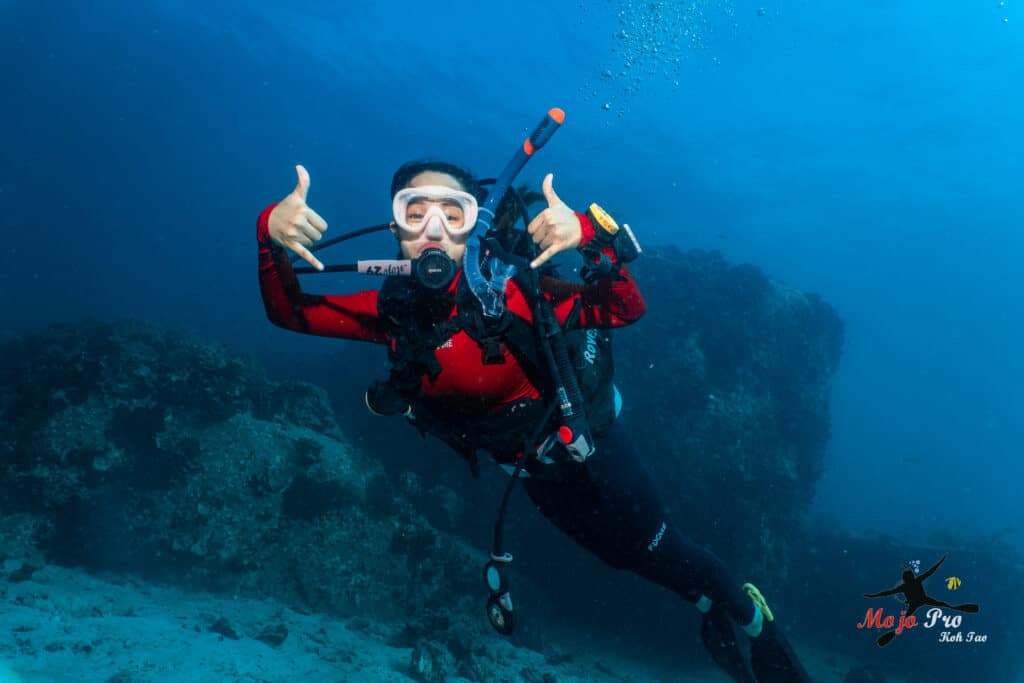 How do you find the best scuba diving mask for you? Find out everything you need to know in this handy guide on how to choose a dive mask.
How to Choose a Dive Mask: The Basics
Everyone's faces are different, so the best scuba diving mask for you is unlikely to be the perfect dive mask for your buddy, and vice versa. Whatever Koh Tao diving packages you sign up for with Mojo, your instructor or dive leader will be happy to help you shop for the best dive mask – we even have several of the most popular options in our beachfront reception that you can try a few on. These are the primary considerations to think about on how to choose a dive mask:
Fit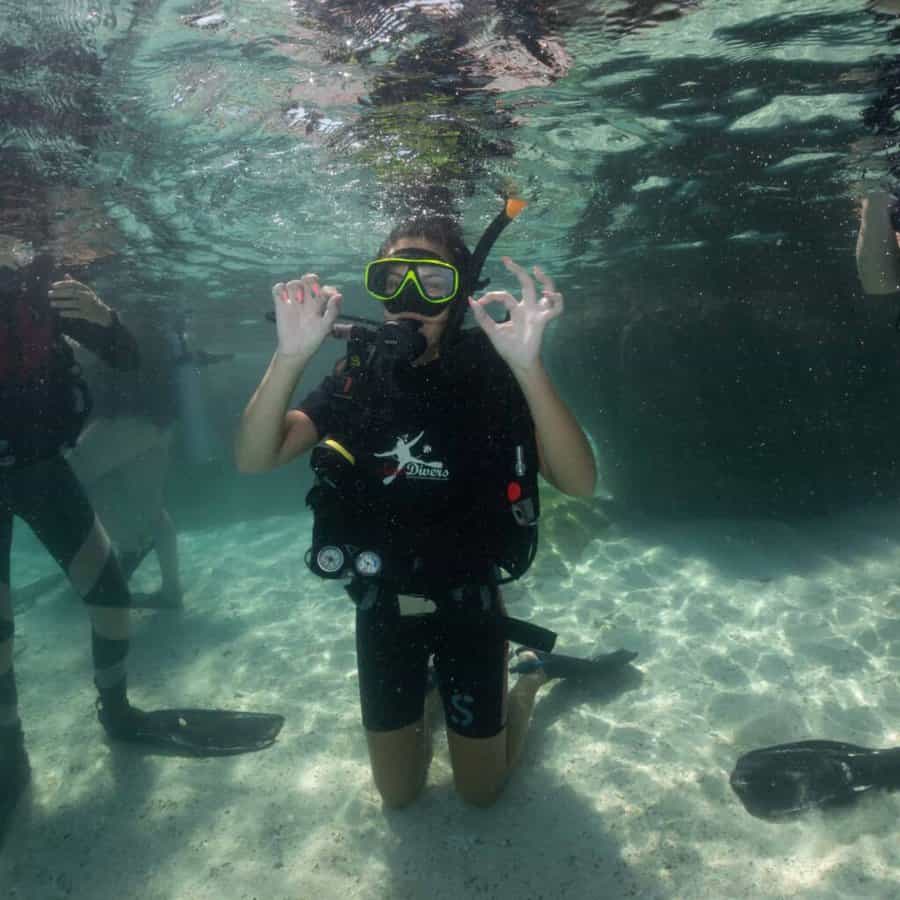 To find the perfect dive mask for your face shape, bend your neck back and look directly up at the ceiling (or the sky if you're on the beach!). Push your hair back and place the mask on your face without fitting the strap. Then check:
Are there any gaps between the skirt of the mask and your face?
Does the skirt of the mask reach up into your hairline?
You want the answers to both of these questions to be 'no' if you're looking to buy a scuba diving mask that will deliver value for money (even small gaps or a single strand of hair can mean the mask will leak when you wear it underwater). Then, and only then, breathe in through your nose to check the seal.
Comfort
Many cheaper dive masks are made of soft plastic, which can be uncomfortable. For the best return on investment, we recommend buying a dive mask with a skirt made of silicone. Not only is silicone more comfortable, but it forms a better seal against your skin and is more durable, meaning your mask will last much longer.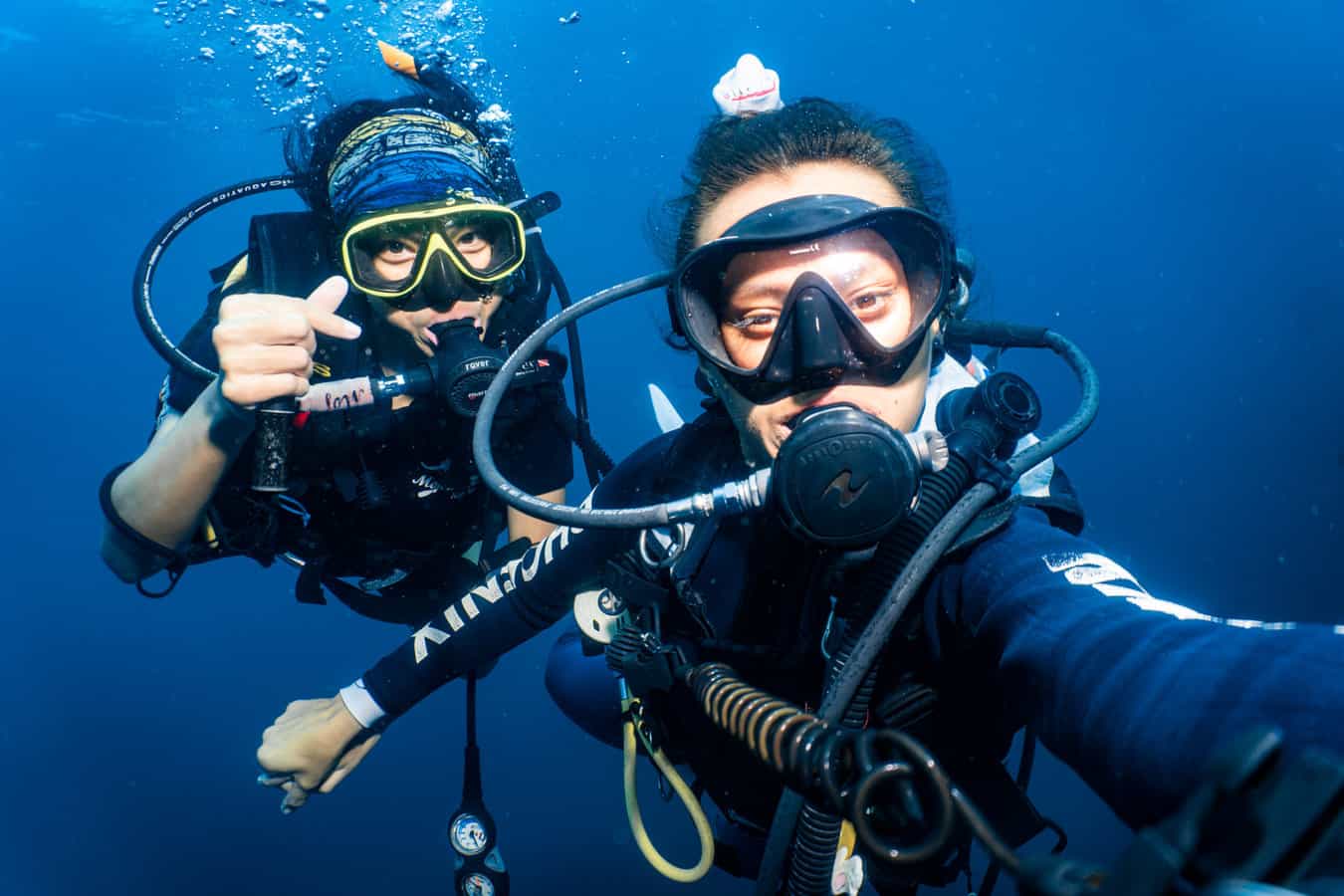 Safety
The lenses of scuba diving masks must be made from tempered glass, not plastic. Plastic works fine if you're only here for snorkeling. But if you're going freediving or scuba diving on Koh Tao, a plastic mask will not hold up to the increasing pressure as you descend and may shatter. To check if a mask has lenses made of tempered glass, look for the word tempered or a capital 'T' printed on the lens itself.
Single Lens, Twin Lens, or Tri-View Lens?
Learning how to choose a dive mask involves thinking about your underwater view. There are benefits and drawbacks to each style…
Single Lens Dive Masks let a lot of light in and provide a more open underwater view. Because there is no bridge in the center, they are well-suited for people with big noses. However, they are not the best dive mask for people who wear glasses, as they cannot accommodate prescription lenses. So, you'd need to be comfortable diving in contact lenses.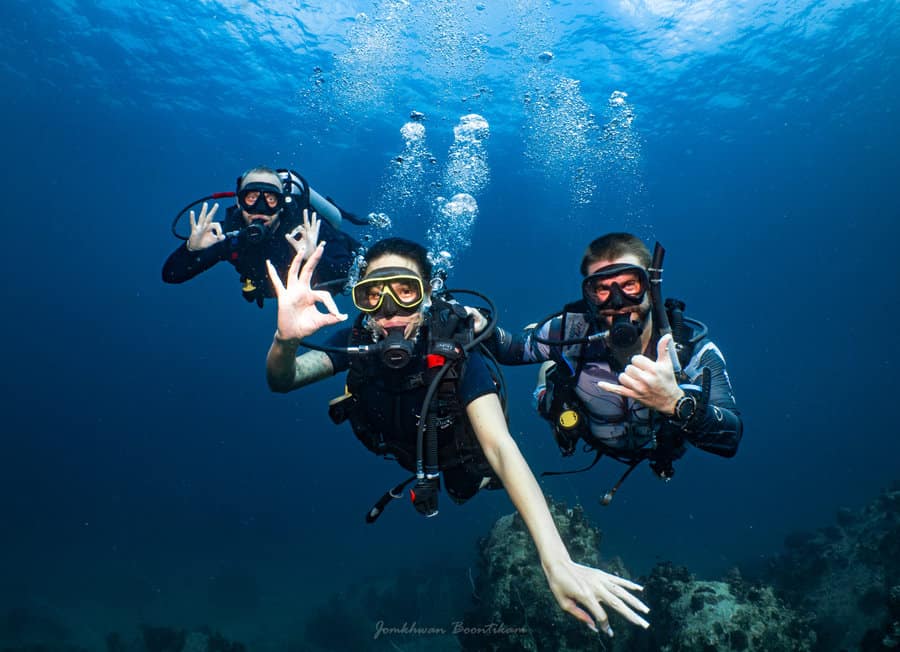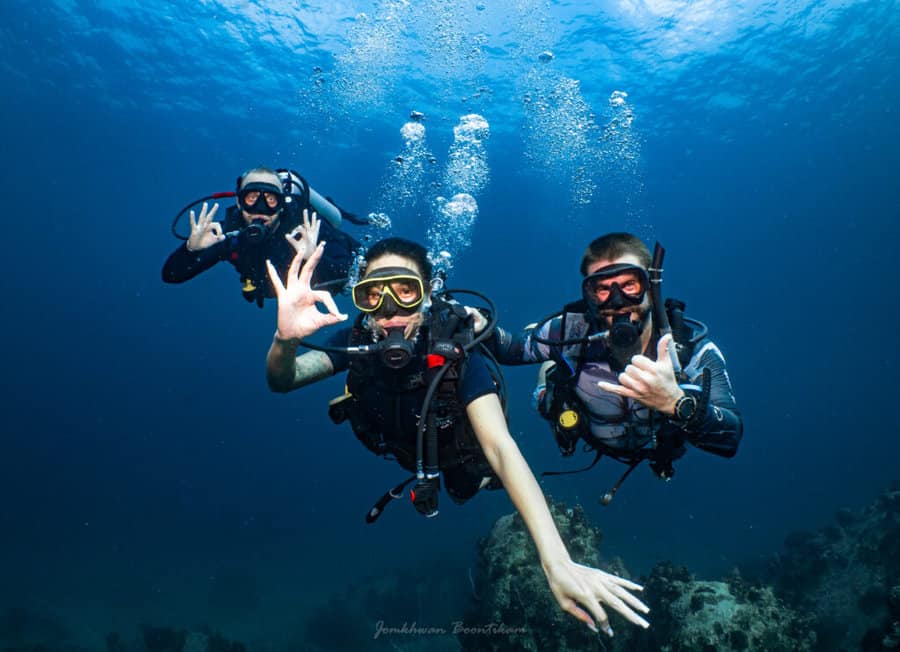 Twin lens masks for scuba diving can be fitted with prescription lenses, offering more flexibility for those with sight deficits. They are also typically lower volume, meaning they are easier to clear, and the teardrop shape makes looking down easier underwater.
Tri-view lenses are essentially single lens masks with clear windows on either side. Advantages include increased peripheral vision, fewer blind spots, and a more panoramic view of the underwater world as you explore our magnificent reefs on your Koh Tao diving course.
Skirt Colour
Most Koh Tao divemasters and instructors prefer black skirted masks for increased focus and because they are easier to keep clean. Many feel distracted by the additional ambient light that clear skirts let in. However, if you're not a fan of tunnel vision or don't like feeling closed in, a clear skirt may be better for you – provided you're dedicated to cleaning it thoroughly after every dive to prevent discoloration.
How to Choose a Dive Mask: Travel Considerations
If you're looking to continue your underwater adventures after completing your Koh Tao diving certification, you'll need to think about travel and durability factors. So, before you buy a scuba mask, it pays to consider:
Is it easy to store?
Is it lightweight?
Does it have fixed buckles that might easily snap off if your bag gets dropped or mishandled?
Is it scratch resistant?
Does it come with a protective case?
How to Choose a Dive Mask: Different Types of Diving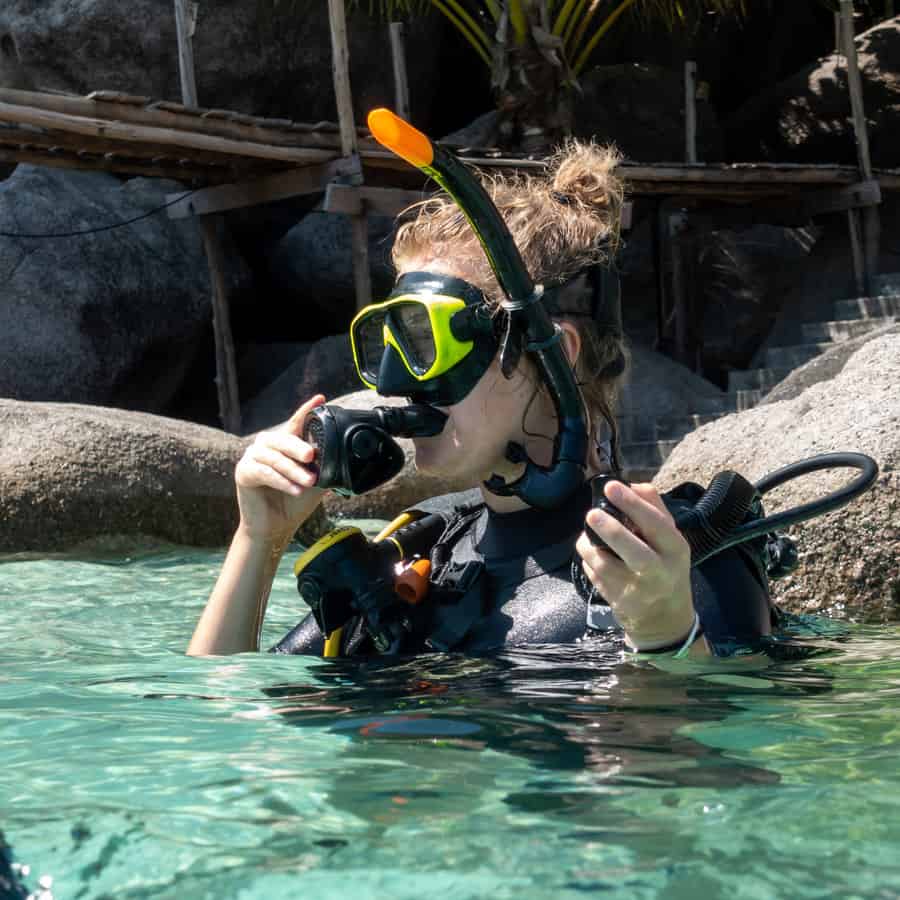 We hope you've found our hints and tips on how to choose a dive mask useful. But remember, never buy one without trying it on first. If that means waiting until you arrive in Koh Tao to buy a scuba diving mask, that's fine. There are several fantastic retail shops here housing multiple brands and styles to suit all faces!
Book Your Koh Tao Diving Holiday Today!
Got your perfect mask in mind and ready to go diving? Koh Tao dive courses and fun diving trips with Mojo are the way to go! Our staff is on hand seven days a week to answer all of your questions, so drop us an email any time to ask about our equipment, courses, packages, and the best Koh Tao diving prices.
Don't forget to give us a follow on Facebook or Instagram for more Koh Tao diving highlights and Mojo Divers news!
Want To Know More About Koh Tao Diving?
Wreck Specialty Course
Advanced Course
Deep Specialty Course
Fun Dives
Want To Know More About Koh Tao?
How do I get to Koh Tao?
When is the best time to dive on Koh Tao?
What else can I do on Koh Tao?
Find out more about SSI here: Dive SSI