Description
Advanced Course
The Advanced Adventurer is a 2-day diving course and is our second most popular diving certification on Koh Tao and can be done straight after the open water course.
If you combine both courses in 5 days you can go from beginner to advanced diver and be able to dive to a maximum depth of 30m.
If you are traveling around Southeast Asia being certified to dive to 30m will give you a greater choice of dive sites for your fun dives.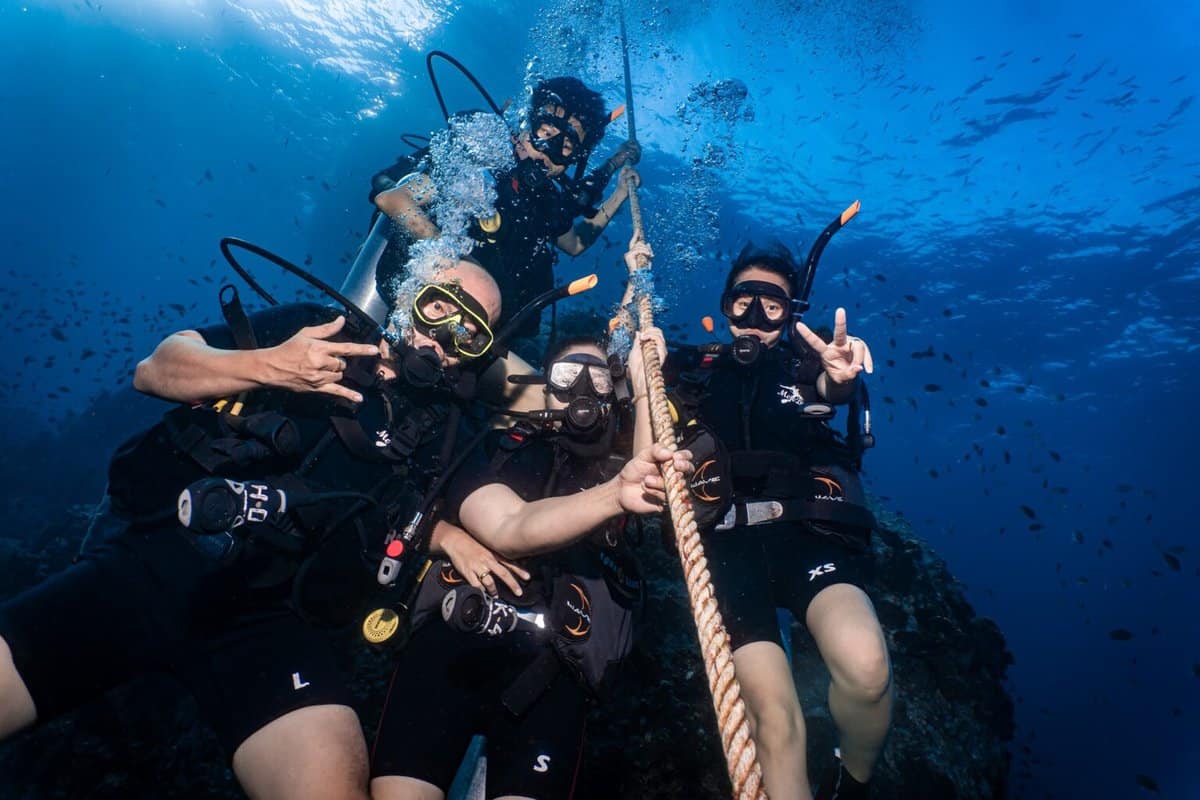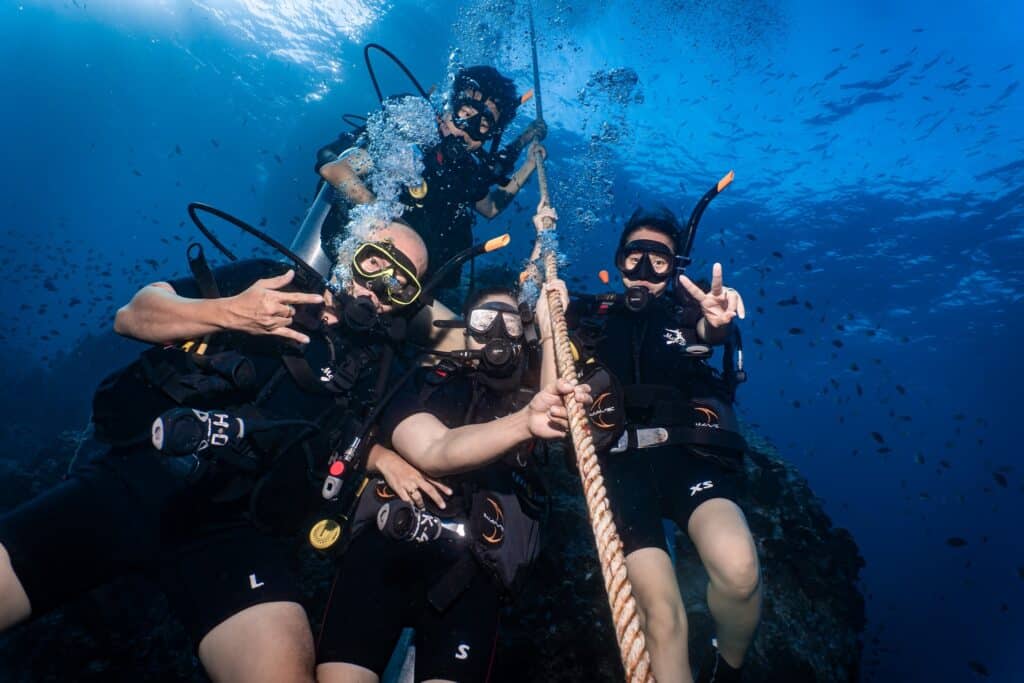 What Is The Advanced Course About?
The Advanced course lasts 2 days of diving and includes 5 training dives plus knowledge sessions, and 2 nights dorm accommodation subject to availability.  We teach in groups of no more than 4 to 1 instructor, to ensure you get lots of attention in a relaxed atmosphere at our Sairee dive center and have a great diving experience.
There is some e-learning on the MySSI app that should be read before starting the course. Whether you have just passed your open water course or have logged hundreds of dives the advanced course will teach you additional scuba diving skills and give you more knowledge.
During the course, you slowly improve your confidence, diving skills, and knowledge base to dive into more challenging situations all the while exploring the coral reefs and marine life at the dive sites.
Practicing diving skills, and dive planning, during your exploration of Koh Tao's amazing dive sites. Becoming a safer more competent diver with a diving license to 30m to use anywhere in the world.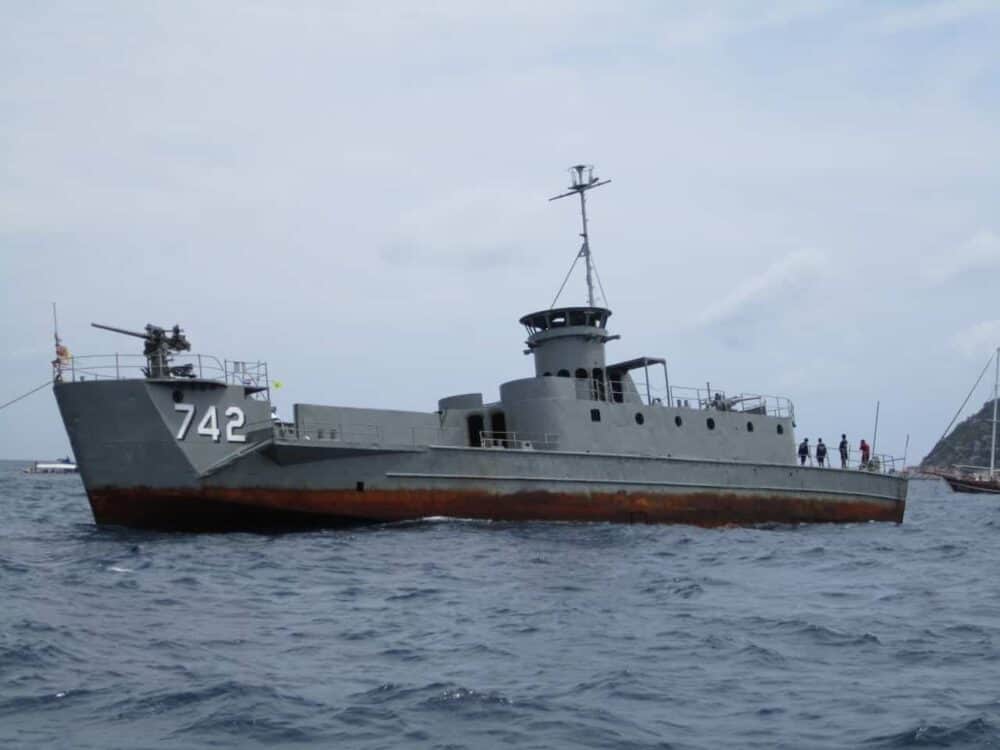 Our advanced diving course includes all dive equipment rental, a dive computer to use during the course, a digital certification sent straight to your phone, water, tea, and coffee on the boat. A digital manual is accessible from your phone. Plus a free app for recording your training and logging your dives.
Do you need accommodation as well? Our dive shop and partner resort on are on Sairee Beach. We have a range of accommodations, from cheap AC dorm rooms or private rooms by the beach, please ask for availability.
Your advanced course certification is sent straight to your phone, a digital manual is accessible from your phone. Plus a free app for recording your dives and training. This course can be combined with other training courses, such as the Nitrox course.
What Dives Do We Take on the Advanced Course?
The navigation dive will give you basics on how to find your way around a dive site, in shallow waters like Koh Nang Yuan, using a compass and natural features. Furthermore, you practice skills that you will use and build upon in all your future dives.
After that, the peak performance buoyancy dive will work on your diving trim, and positioning underwater to improve your buoyancy control. It's great fun with tips and tricks from your instructor, helping you to improve your air consumption and protect the marine environment.  One of the artificial reefs is perfect for this type of dive.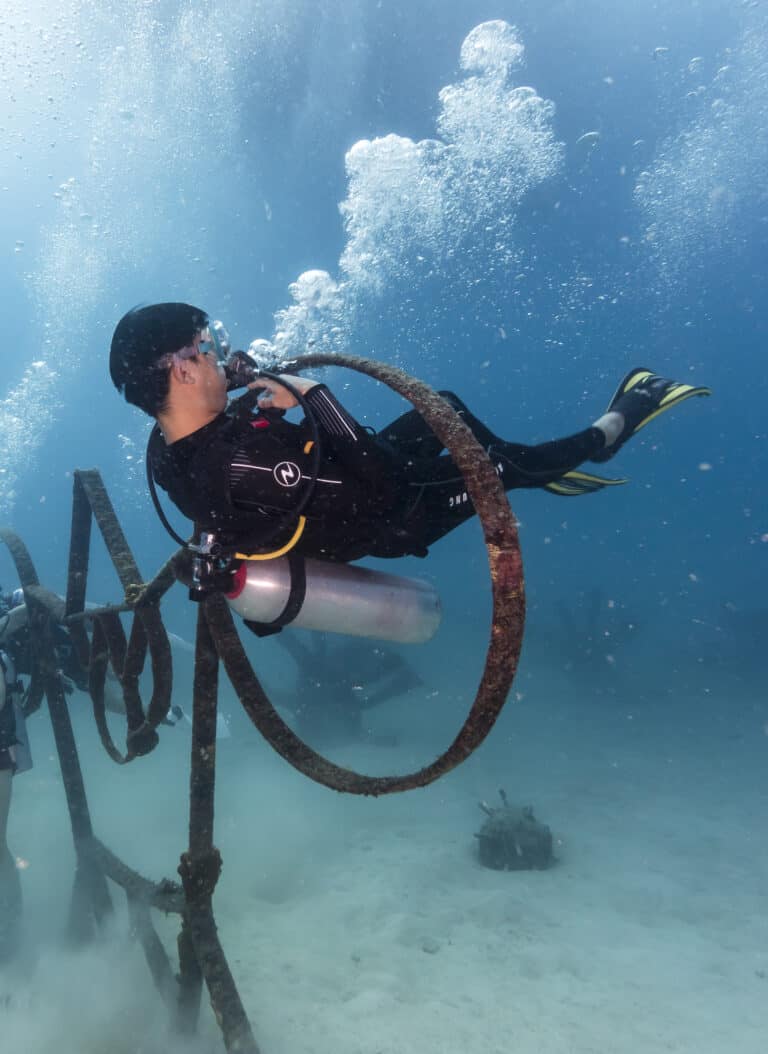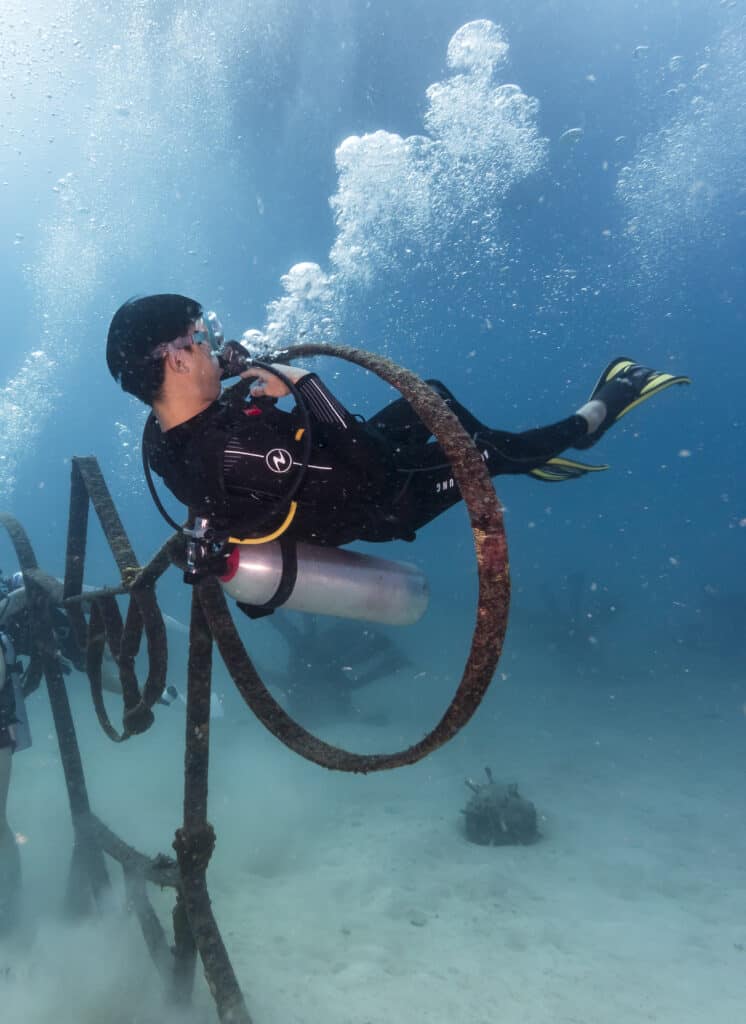 Not forgetting a night dive, an amazing experience, you will love diving in the dark with just your torch to illuminate the coral reef and see the difference in marine life!
The deep diving adventure dive will give knowledge and experience going beyond the 18m depth to a maximum depth limit of 30m. Learning about the risks of diving deep and how to manage these with specialized equipment and safety procedures with your instructor.
The underwater pinnacles like Chumphon, Hin Wong, Shark Island or Sail Rock are great for the deep dive. Koh Tao has a great variety of deeper dive sites. These are the best places to see whale sharks, but no guarantees.
The wreck dive on the HTMS Sattakut, (subject to the weather) a WWII naval vessel that was purposefully sunk off Sairee to provide a training site.  The ship wreck is slowly becoming a haven for marine life, take a peek inside the wheelhouse and see the groupers hiding there.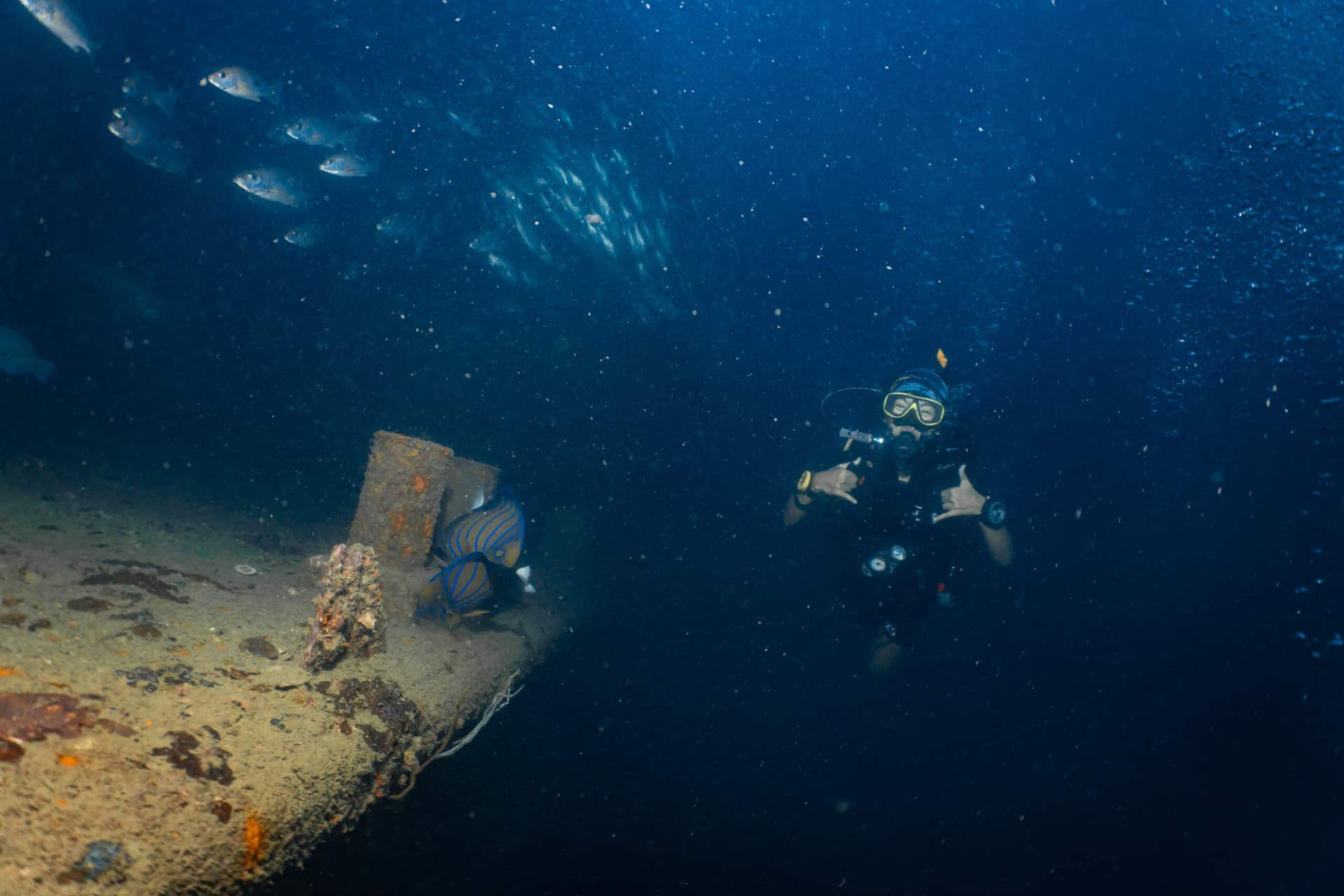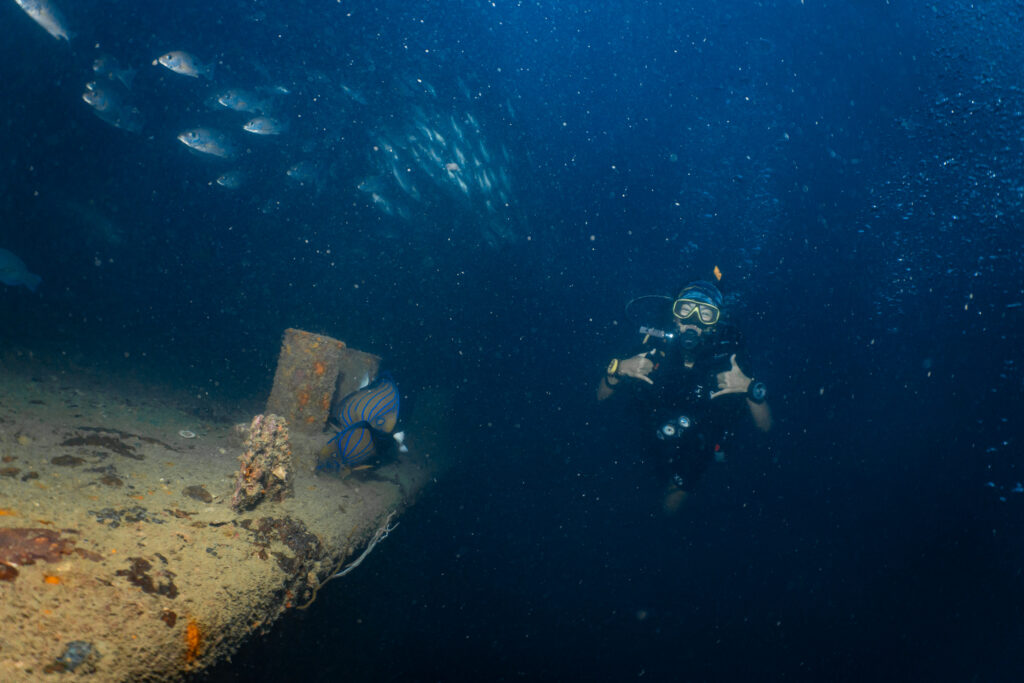 A word on payment …
You can book the advanced course by paying a deposit to secure your dive course you will receive a confirmation email within 24 hours from our dive center staff. We will ask you to confirm your arrival time and the date and the ferry company name.
Booking Terms And Conditions
By sending this request and payment you are submitting a reservation for your advanced course. Ensure that you have read and understood our terms and conditions.
Please ensure that you read the medical form and if you have to answer yes to any questions you will require a sign-off by a diving doctor. While this is available on Koh Tao some pre-existing conditions may require a sign-off by your doctor or specialist.
If you have any doubts please ensure the medical questionnaire is completed before leaving your home country. Some medical conditions are not suitable for diving and may preclude you from diving.
How Do I Sign Up For Koh Tao Diving?
If you are interested in the advanced course or other Koh Tao diving activities
contact us
  and one of our professional instructor team from the dive shop will help you can find out more about the wide range of diving courses we offer by clicking on the links below or follow us on
Facebook
or
Instagram
Want To Know More About Diving Courses In Koh Tao?
What other scuba diving programs can I do after the advanced course?