Description
Open Water Course 2023
Koh Tao is a very popular tropical island, with warm, clear water for diving courses. Its most popular diving certification is the beginner-level 4-day diving course.
The Open Water Course has been completed by millions of people around the world. The course is divided into 2 academic sessions where you learn dive theory and the basics of scuba diving and diving history.  Plus an exam to help with your knowledge development.
You will have 1 shallow water training session (normally in a swimming pool) where we practice the essential skills required for diving and get learn about your scuba diving equipment.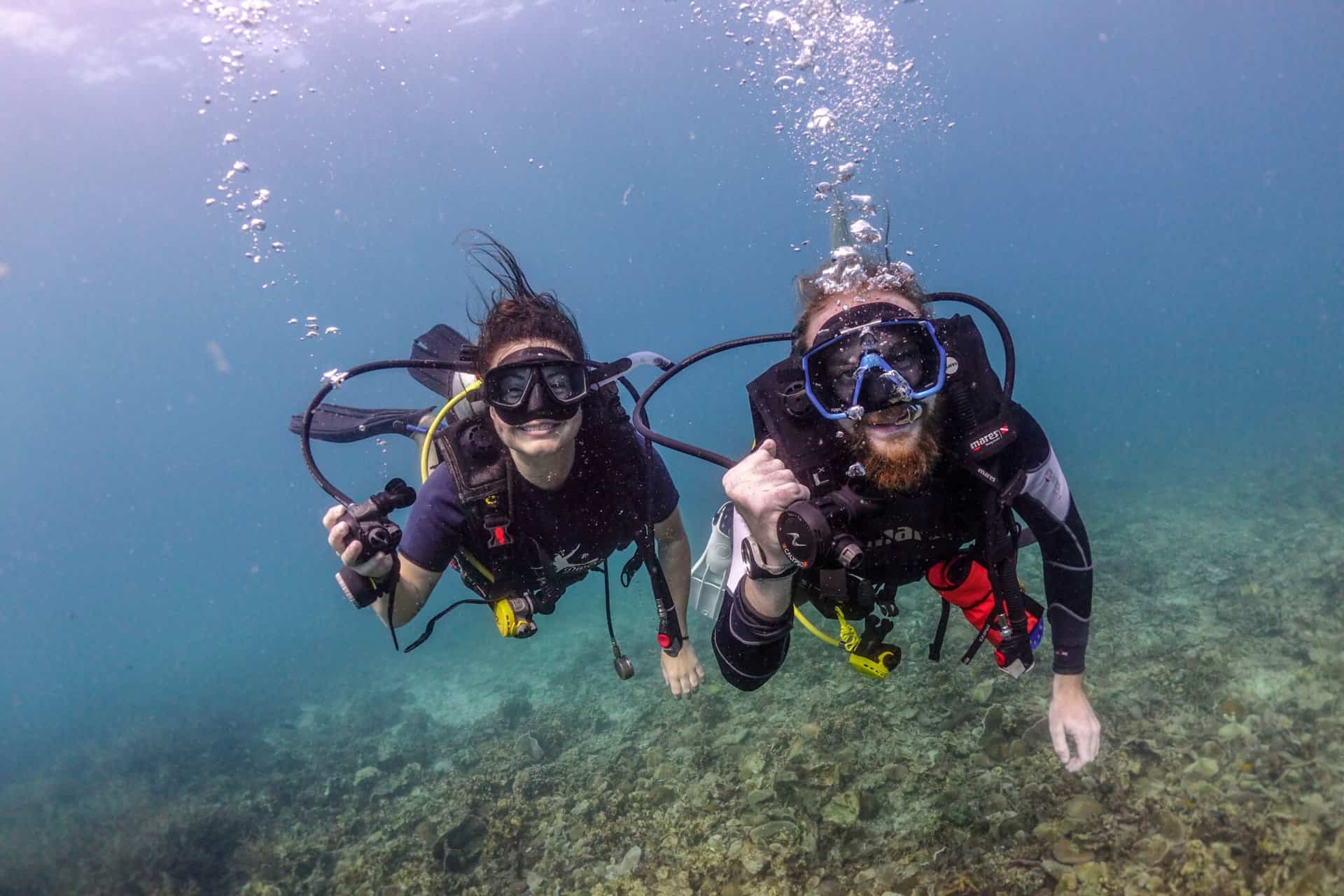 Next is the 4 open water training dives where you practice the scuba diving skills and learn more about scuba equipment and neutral buoyancy on our afternoon boat trip.
The first 2 dives are in calm, shallow water in one of Koh Tao's sheltered bays, no more than 12m deep.  Once you have practiced some diving skills you get to explore the coral reefs and marine life at the dive sites.
The next 2 open water dives the following day allow you to go in deeper water, with a maximum depth limit of 18m. Practicing diving skills, dive planning, more exploration of Koh Tao's dive sites, and becoming a safe, competent diver.
After successfully completing everything, you will have a diving license to 18m to use anywhere in the world!
You don't need any experience as we teach you everything but you do need to have adequate swimming skills. Scroll down for a brief schedule.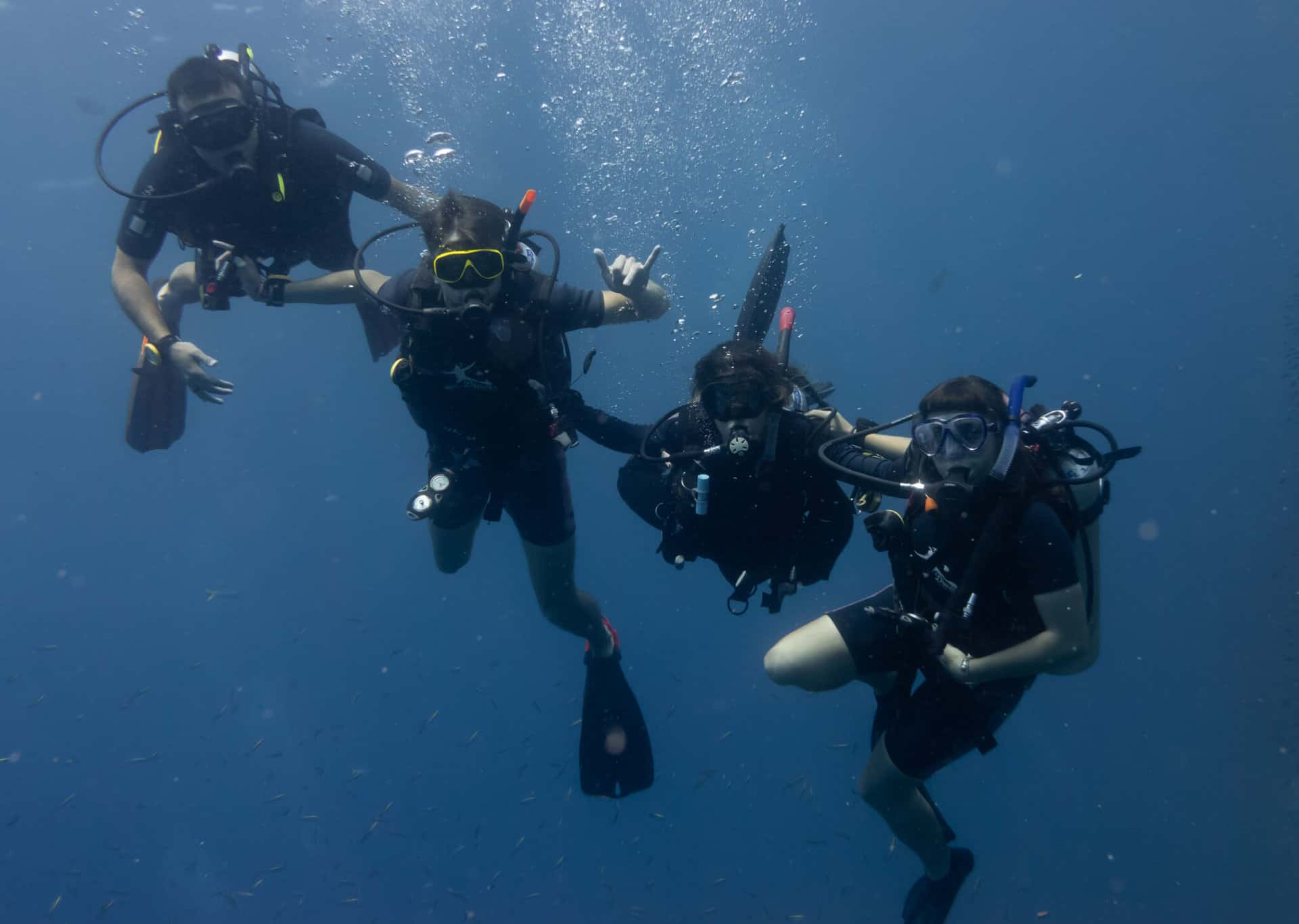 What Does The Course IncludeOur open water course includes all equipment rental, a digital certification sent straight to your phone, 3 nights dorm, water, tea, and coffee on the boat.
A digital manual accessible from your phone, and free dive insurance from Dive Assure during your training. Plus a free app for recording your training and logging your dives.  And you get 3 nights dorm accommodation included, subject to availability.
Do you want a private room? We have a range of accommodations, from cheap AC rooms or private rooms by the beach, please ask for availability.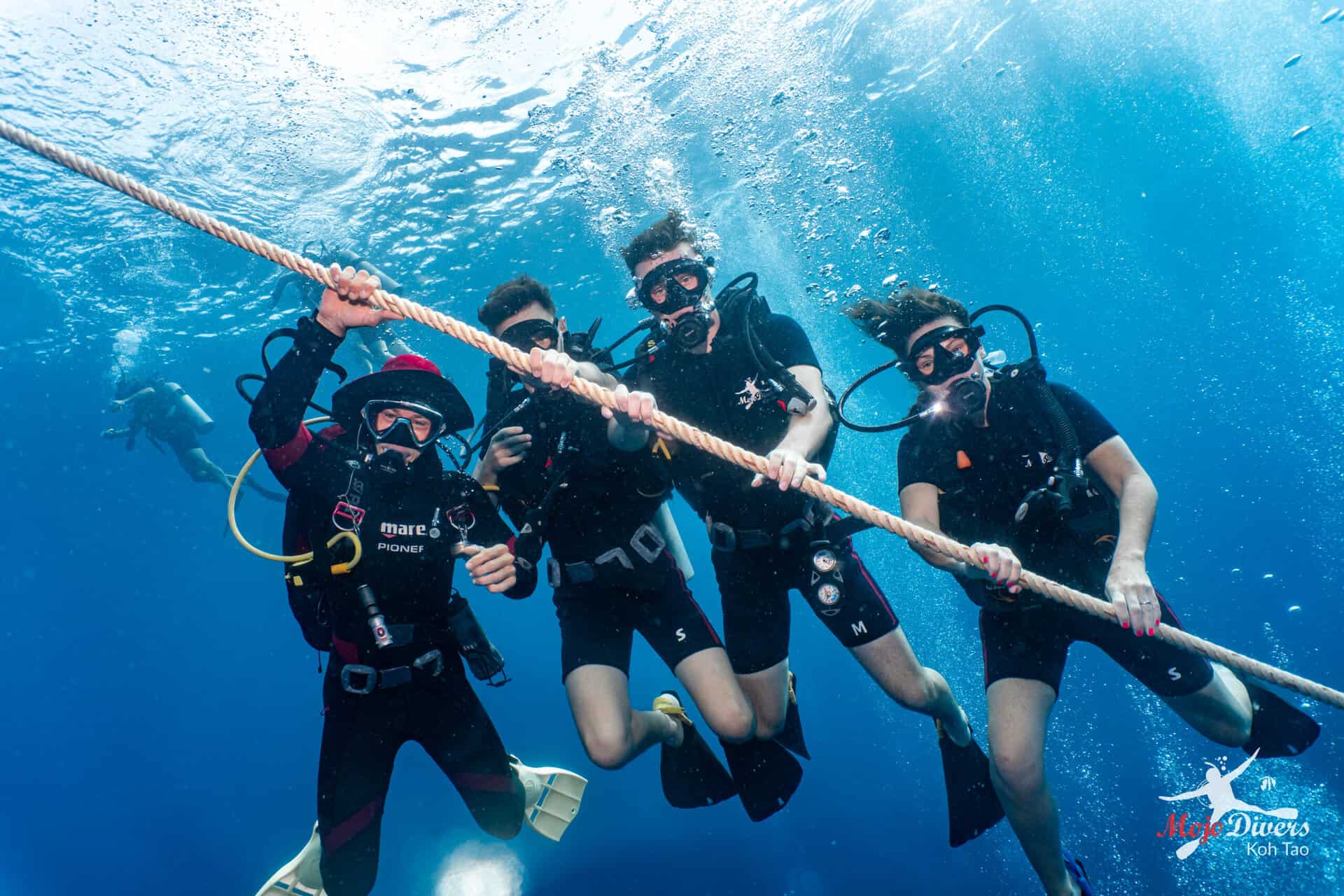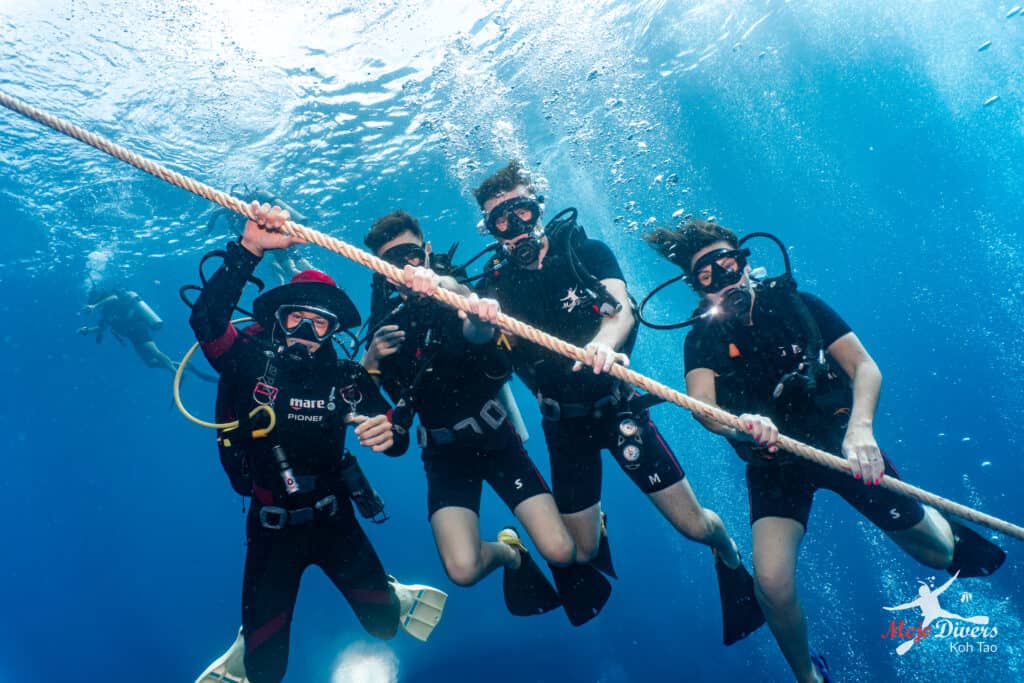 How Does The Open Water Course Work
After downloading the MySSI app from your Play Store and signing up in the shop you get access to the reading material on your phone and you have to read the first 3 chapters before you start the course the following morning. What better way to read the open water diver manual than while enjoying a cocktail at one of Koh Tao's beach bars?  Or you can download it before arriving in Koh Tao and read it as you travel here.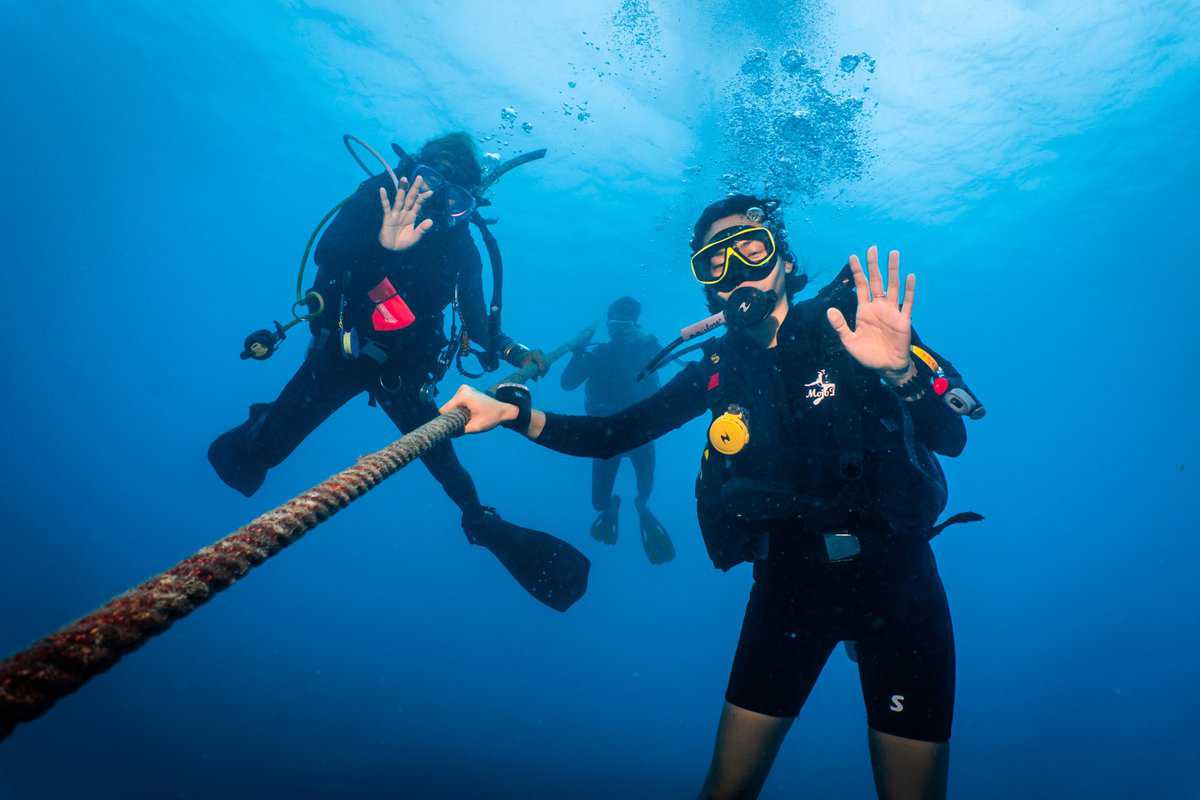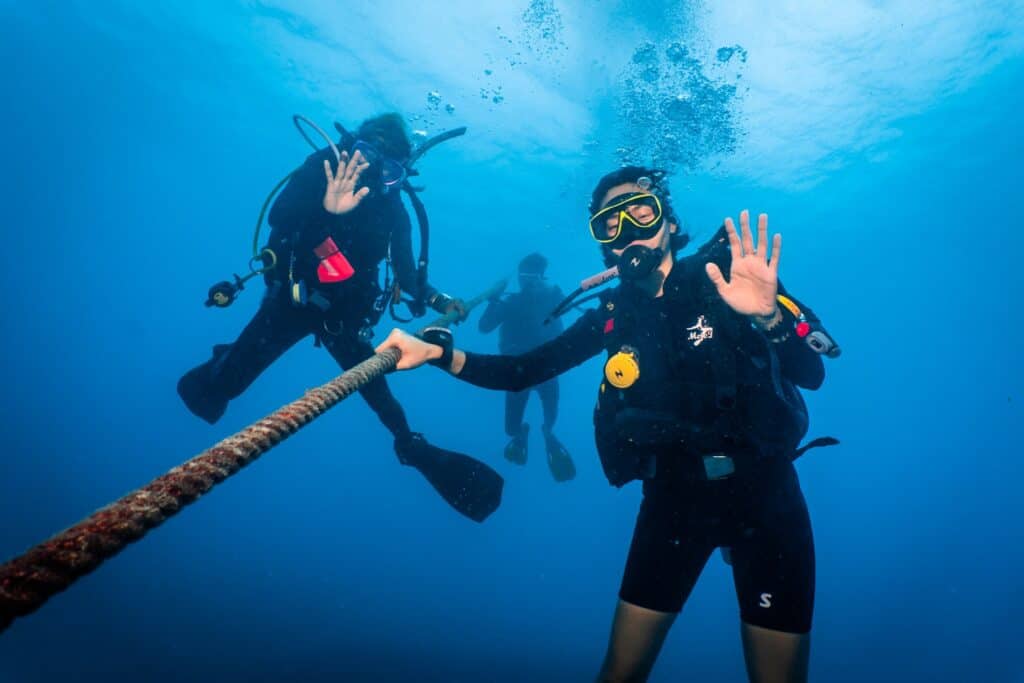 A Brief Open Water Course Schedule
Day 1 Course orientation at 4 pm, sign up, and the required paperwork after making your booking, finishing by 5 pm.
Day 2 Classroom sessions from 9 am and shallow water training sessions (normally in a swimming pool) where we practice the essential skills required for diving and get learn about your scuba diving equipment. Don't worry you get a lunch break, and you will be finished by 5 pm.
Day 3 Classroom session from 9 am and exam followed by a break for lunch and in the afternoon the 2 dives to a max of 12m repeating some of the skills from the day before, finishing by 5 pm.
Day 4 A morning start and 2 open water dives to a max depth limit of 18m, finishing by 12 pm. Log your dives and complete the paperwork for the course and get your open-water certification!  Scroll down for a full schedule.
If you don't have 4 days for the open water course then the 1 day Try Scuba Diving could be for you, you can still discover diving on Koh Tao.
Here Are Some Typical Questions
The Full Open Water Course Schedule
Day 1 – After making your booking you come to the shop by the beach for the course orientation where you download the MySSI app onto your phone, complete digital paperwork, and receive an overview of the course timetable.
Day 2 – The following morning after you have signed up, you are ready to start your diving course on Koh Tao.  We start at 9 am with academic sessions, reinforcing the diving knowledge that you have read in the manual. In the afternoon you learn the required skills for the course in shallow water. Either in a pool or from one of Koh Tao's shallow beaches. It is here that you learn all the scuba diving skills required for your open-water license.
Day 3 – The next day starts in the morning with more theory and an exam to check your diving knowledge and in the afternoon the first 2 open water dives at one of our dive sites are to a maximum depth of 12m.  But to begin with, we are normally shallow than this to practice your scuba diving skills. Once you feel comfortable underwater we can go a little bit deeper and start to explore Koh Tao's underwater world, its beautiful coral reefs and marine life.
Day 4 – The following morning dives 3 and 4 to a maximum depth of 18m and we dive deeper and further than the day before, you will be amazed. At all times your instructor will be with you to keep you safe, and you practice some of the skills you did earlier in the shallow water training and find all the cool stuff under the sea.  Maybe you will be one of the lucky ones and see a whale shark, not everyone does.  When you come back from diving we finish the course paperwork and it's time to celebrate the start of your diving journey.
Want to learn more about scuba diving and go deeper than 18m? The next popular scuba diving course on Koh Tao is the advanced open water. You can start this course the day after you finish your open water or simply go fun diving around Koh Tao's diving spots and enjoy the underwater scenery and aquatic life.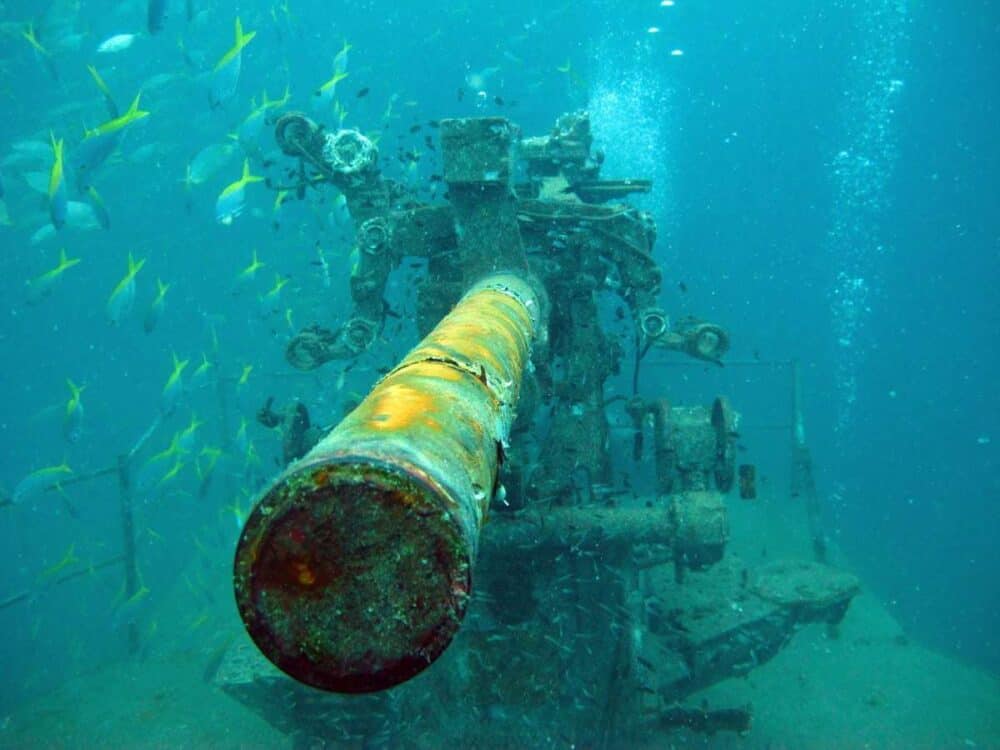 A word on payment …
You can book in advance by paying a deposit you will receive a confirmation email within 24 hours from our staff. Where we will ask you to confirm your arrival time and date and the ferry company name. Do not worry if you have not booked a ferry yet.
Booking Terms and Conditions
By sending this request and payment you are submitting a reservation for your open water course. Ensure that you have read and understood our terms and conditions.
Please ensure that you read the medical form and if you have to answer yes to any questions you will require a sign-off by a diving doctor. While this is available on Koh Tao some pre-existing conditions may require sign-off by your doctor or specialist.
If in doubt please ensure the medical questionnaire is completed before leaving your home country. Some medical conditions are not suitable for diving and may preclude you from diving.
Want To Know More About Koh Tao Diving?
Want To Know More About Koh Tao Diving?