Can I Go Scuba Diving With Contact Lenses?
"Can I dive in contact lenses?" is one of our most frequently asked questions by new divers. And it's a good question. After all, if you are coming scuba diving on Koh Tao, you want to make sure you can actually see as much of our wonderful underwater world as possible, right?
The short answer is a big fat yes. You can go scuba diving with contact lenses, no problem! Lots of recreational and professional level divers do it all the time. So if you don't have the best eyesight, there's no reason you can't still get your diving certification on Koh Tao.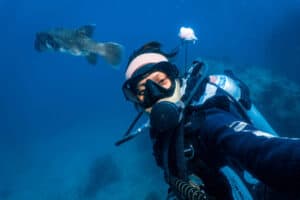 There are, however, a few things to keep in mind. Here's everything you'll need to know about scuba diving with contact lenses and complete your Koh Tao diving packages here at Mojo Divers.
Hard vs Soft Contact Lenses For Scuba Diving
Soft contact lenses are a much better choice to get the most out of your Koh Tao diving course or fun diving package. You may be wondering why it makes a difference. As many things are scuba-related, the reason comes down to nitrogen gas…
Your eyes absorb nitrogen when you scuba dive, just like every other tissue in your body. This is not an issue in itself. However, because softer contact lenses allow the gas to pass through more easily, your vision underwater is likely to be clearer. With hard contact lenses, nitrogen bubbles can form between the lens and your eyeball, which may cause some annoying blurred vision. Your eyes will also get dryer and you'll need to blink more when you wear hard contact lenses for scuba diving.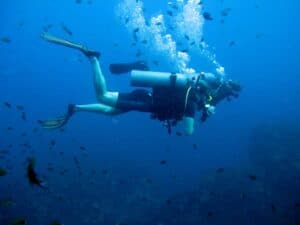 Top Tips For Scuba Diving With Contact Lenses
To enjoy your Koh Tao diving experience just as much as your better-sighted buddies, follow these top tips from our experienced and professional dive team:
Bring Spare Contact Lenses
Be sure to bring a spare set of contacts on each dive trip. Missing out on a dive because you lost one on the boat would be annoying. Plus, if you lose one during a mask skill, it doesn't have to mean your diving day is over.
Close Your Eyes During Mask Skills
Speaking of mask skills, it's a good idea to keep your eyes closed during mask-based training drills. Even on our one-day Try Scuba Diving program, you'll need to practice clearing a partially flooded mask. On the Open Water Diver course, you'll need to master clearing a fully flooded mask and mask removal and replacement too. Keeping your eyes closed during these skills prevents you from losing or contaminating your lenses.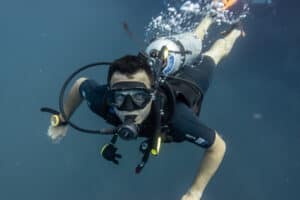 Disinfect Your Hands After Each Dive
You should always disinfect your hands before touching your eyes or contact lenses, but especially after diving. Koh Tao waters may be salty, but that doesn't mean they are clean or bacteria-free like the saline water you get from the pharmacy. To prevent contamination, always wash your hands between exiting the water and touching your eyes or contact lenses.
Let Your Koh Tao Dive Leader And Buddy Know
Always let your instructor and dive buddies know if you are diving with contact lenses for scuba diving so they can be prepared and make the necessary adjustments for you. Problems with your lenses will be challenging to explain underwater using sign language – especially if your vision becomes blurry and you can't see clearly.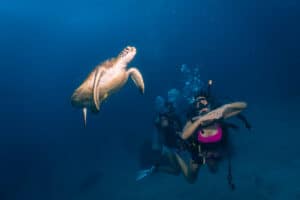 What If I Don't/Can't Wear Contact Lenses
Contact lenses aren't for everyone, but no scuba diving mask will accommodate a pair of eyeglasses. So, what should you do if you're not able to wear contact lenses while diving? Not to worry, there are a couple of other solutions that may fit your needs when you go diving on Koh Tao. Scuba diving retail shops on the island stock some of the products mentioned below. However, immediate availability cannot be guaranteed, especially at peak times. So, if you think you need assistance, please let us know ahead of time when you book your Koh Tao diving holiday.
Prescription Masks
Many divers feel more comfortable with an inbuilt solution rather than diving with contact lenses because it makes mask clearing easier and reduces the chances of having to abort a dive if they lose one. Investing in your own mask is always better than using a rental. That way, you know the comfort and fit will be just right.
Our team is always happy to help find the right mask for you, and your instructor will take you through how to get the correct size and fit.
With prescription masks, it's possible to get different lenses fitted for each eye, and most manufacturers offer lenses that come in 0.5 increments. The majority come with the original lenses as well as the prescription set. So if you want to lend your mask to a buddy, you can. Switching them is quick and easy, and no special tools are required. This also makes it easy to update your mask as your prescription changes.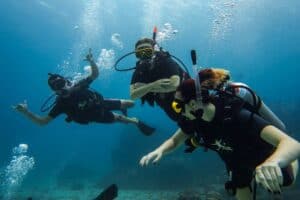 Off-the-shelf prescription masks available to Koh Tao diving school customers through our network of suppliers include:
Aqualung Look
Aqualung Look 2
Aqualung Look HD
PSI Aqua 2
Tusa Ceos
Prescription Mask Stickers
Although not as durable as having a full lens made of durable tempered glass, it's also possible to buy prescription stickers to insert into your mask to help you see better underwater. It's always good practice to have a couple of sets in case one peels away or gets lost.
Final Considerations
If you're unsure what to do, why not try scuba diving with contact lenses or a regular mask for the first day and see how you get on? If you only have mild vision problems (less than -2), the natural magnifying properties of water may mean investing in a prescription mask isn't necessary.
Likewise, if you have a positive prescription, you may decide that seeing everything in the distance is not a priority. After all, looking at marine life close up is way more fun. Plus, it's more important to be able to see the things closest to you – like your SPG, computer, and compass – than it is to be able to see things twenty meters away.
Whatever you decide, one thing is for sure: limited vision needn't be an issue or stop you from diving on Koh Tao!
How do I sign up for a Koh Tao diving course?
Contact us
Easy.
If you are interested in more scuba certifications on Koh Tao contact us or follow us on Facebook or Instagram