Many of our customers ask us "can I see a turtle on turtle island?". For those of you who haven't
done a heap of research or skimmed your way through the Koh Tao section of your Lonely Planet
guide yet, it helps to know that Koh Tao translates to Turtle Island (Koh means island and Tao
means turtle).
If you want to see turtles on Koh Tao, you're in luck, as they are regularly spotted around our
coral reefs and coastal waters – along with plenty more spectacular marine life. So if you're
coming diving on Koh Tao with us, you have a fair chance of spotting one! Even if you don't plan
on getting your diving certification on Koh Tao, there are still a few ways to see a turtle here on
Turtle Island!
The Turtles of Turtle Island
We see two different species of turtles on Koh Tao: Green Turtles and Hawksbill Turtles. Both
typically inhabit the shallow bays and coral reefs that surround the island. They are truly majestic
creatures, and spotting one is often the highlight of a Koh Tao diving course or snorkeling trip.
But, what's the difference? And how do you tell them apart so you know which you've seen?
Green Turtles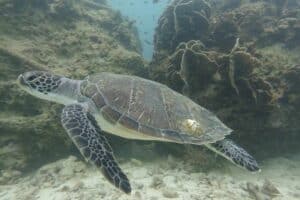 Green turtles are the largest of all hard-shelled sea turtles (yet their heads are relatively small in
comparison to their bodies). A fully grown adult can reach around 3-4 feet in length and weigh
about 140kg. Green Turtles are unique in that they are primarily herbivores, so they eat mainly
seagrasses and algae – unlike other species that enjoy feasting on crabs and jellyfish, etc. This diet
gives their cartilage and fat a greenish color, which is where they get their name. The key
characteristics of Green Turtles are:
A smooth, rounded beak.
Greenish 'skin' and underbelly.
A brown or olive-colored shell.
A teardrop-shaped shell with rounded edges.
Hawksbill Turtles
Hawksbill turtles have a tapered head that narrows into a V-shaped jaw and pointed beak
resembling a bird's beak – hence its name. They are much smaller than Green Turtles, typically
reaching a maximum of 3 feet and weighing under 70kg. Hawksbill Turtles on Koh Tao eat
mainly sea sponges, anemones, and jellyfish. The key characteristics of Hawksbill turtles are:
They have a V-shaped jaw and a pointed beak.
A mottled shell of irregular coloring comprising shades of brown, amber, orange, red,
yellow, and black.
The shell has serrated edges and overlapping scutes (scales).
A pair of claws on each flipper.
Now you know the different types of Koh Tao turtles, let's take a more in-depth look at where
you can find one!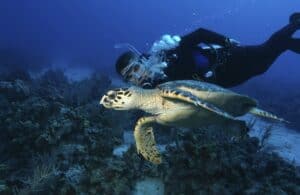 Can I See a Turtle on Turtle Island While Scuba Diving?
We don't see turtles every time we go scuba diving. Koh Tao is surrounded by coral reefs, and the
turtles come and go. So, it pretty much comes down to being in the right place at the right time.
However, they are more common at some Koh Tao diving sites than others – for example, at
shallow sites like Red Rock, Mango Bay, and Three Rocks. That's not to say you can't see them in
deeper areas too. Turtles migrate thousands of miles over their lifetime and have been spotted
(although infrequently) at deeper dive sites like Shark Island, Chumpon Pinnacle, and Sail Rock. But, yes you can see a turtle on Turtle Island.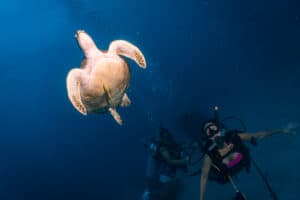 Often, they can be seen more predictably on night dives on the SSI Advanced Adventurer course.
There are a couple of places where they can be found hunkering down for the night at dive sites
like White Rock and Twins.
Can I See a Turtle on Turtle Island While Snorkeling?
Yes, absolutely. You don't have to go scuba diving to see a turtle on turtle island! If you spend
time exploring some of the shallow bays, you have a good chance of spotting one. Of course, the
chances are higher in specific places. These are the best beaches and bays to check out for the highest probability of spotting one of our resident Koh Tao turtles:
Jansom Bay
Shark Bay (also known as Thian Og Bay)
Tanote Bay
Sai Deng Beach
Freedom Beach
Hin Wong Bay
Lighthouse Bay
Sai Nuan Beach
Mango Bay
Best Practices for Snorkeling and Scuba Diving with Turtles
It's easy to get a little bit too excited when you spot your first turtle on Turtle Island! They
present amazing photo opportunities, and will usually let divers and snorkelers get quite close as
long as you don't spook them by moving around too quickly. While they are generally very
graceful and peaceful animals, they can swim away quickly when they want to, using their strong
flippers and paddles to propel them through the water with ease.
The number one rule for snorkeling or scuba diving with turtles is not to block their path to the
surface. They spend most of their life underwater, but they do need to go to the surface from
time to time to breathe air.
Can I See a Turtle on Turtle Island Without Getting Wet?
Also yes! If getting your Koh Tao diving certification is not the focus of your trip (although we
think it should be, lol), there is still a way to see a turtle (or several).
New Heaven Conservation center in Chalok Ban Khao has a turtle sanctuary as part of their
turtle head-starting project. They keep turtles for around a year in simulated natural conditions
to allow them to grow safely before being released. If you'd like to visit and see the turtles, please
bear these essential points in mind:
Visitors are welcome between 9 am and 5 pm.
Feeding time is at 10.30 am daily.
Photos are allowed, but visitors are not permitted to handle or touch the turtles.
There is no charge, however, donations for food and upkeep are appreciated.
The best time to visit is between June and October.
Can I See a Turtle on Turtle Island with Mojo Divers?
While we can never guarantee any specific marine life sightings, we try to visit the best dive sites
to maximize your chances! Because Koh Tao turtles reside mainly in shallow waters, you have the
same chance of seeing one as a novice diver on a try scuba diving course or open water diver
certification program as you do as an advanced diver joining us for fun dives and specialty
courses. There is an online course specifically for learning about the different types of sea turtles.
Contact us with your questions and book your Koh Tao diving course today! We are here for seven
days a week to provide all the info you need about Koh Tao diving prices, accommodation,
certifications, and more.
Are you interested in ecology courses? There are plenty of online courses available right on your MySSi app.
Don't forget to give us a follow on Facebook or Instagram for more Koh Tao highlights and Mojo
Divers news!
Want to know more about SSI?